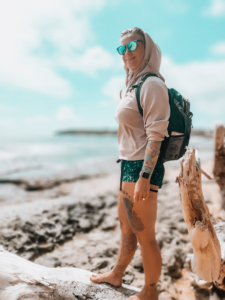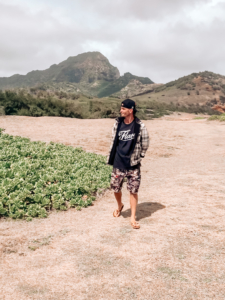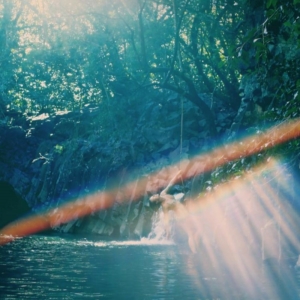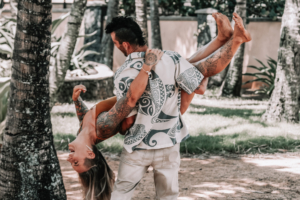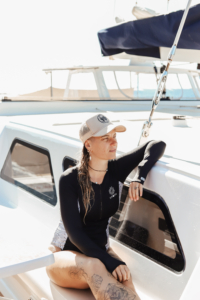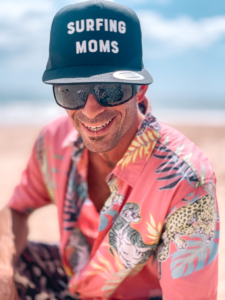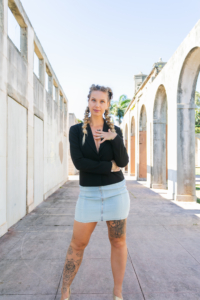 Aloha!  I'm Erin Elizabeth, Co-Founder & CEO.  I have a B.A. Degree in Radio/TV/Digital Media Productions and minor in Costume Design from University of Idaho.  I left the Pacific Northwest city on an adventure to the Maui jungle.  I've always been a creative soul who loves the ocean!
Rainbows, whales, waterfalls, OH MY.  This passionate Pisces wants to preserve all marine life and their ecosystems.  I dove into studying alternative organic skin ingredients, essential oils, and plant-based products that could be utilized to save the ocean.  In 2014 ONE LOVE BODY SOUL was born due to aspiring healthy and happy armpits!  Our natural mango butter deodorant has taken quite the journey; from tubes and jars, to now proudly–100% Zero-Waste packaging!  Our amazing formula has been tested and improved by friends and Ohana for many years.
Yoga and meditation have always been a deep influence for me, and a great tool to practice while running a business!  I continue to study at Maya Yoga in the Huelo jungle under the amazing Nicki Doane, working towards a 500 Hour RYS Yoga Certification.
Our second product originated from the heart of the Black Rock City Desert, home of Burning Man.  I've assisted in building stages, vast geodesic domes, and spent thousands of hours scattered over a decade with exquisite humans tromping around in the dust.  All while collecting inspiration from art, the land, and getting to know myself better.  Let me tell you, shiz get's dry and rugged out there–extreme weather conditions people!  Especially your lips.  We just had to come up with a substantial lip balm that could withstand all harsh environment conditions, without the freaking plastic.  Well, we have a few options now to pout and prance with.  Our lip formula has been tested and approved by Burners of all regions during many sunrise surprises.
In 2015 NPR announced oxybenzone is a hamful chemical to coral reproduction. The Environmental Working Group and Consumer Reports have both come out with additional ingredients being harmful.  These products typically include a combination of two to six of the following active ingredients: oxybenzone, avobenzone, octisalate, octocrylene, homosalate and octinoxate.  Mineral sunscreens use zinc oxide and/or titanium dioxide as their main active ingredient.  Our mineral sunscreen recipe gives both UVA and UVB protection (full broad spectrum coverage) without harming humans and coral reproduction under the sea.  Extremely moisturizing, too.
In my spare time I find peace in backpacking, moon bathing, snorkeling, drinking cold-pressed juice, flow arts, yoga, camping, travel, and a dusty dance floor.
There is no way I could sail this ship on my own.  I am backed by an amazing planet-loving team and partner Dani, our Co-Founder.  Check out the Ohana page to meet some incredible individuals who have assisted in constructing this brand.
Click the Contact button if you'd like to collaborate, inquire about wholesale, or voice a comment or question.
Thank you for reading this from the bottom of my heart and all your support in OLOVE!  We appreciate your shared passion to take care of our one blue dot.
Gratitude, EE